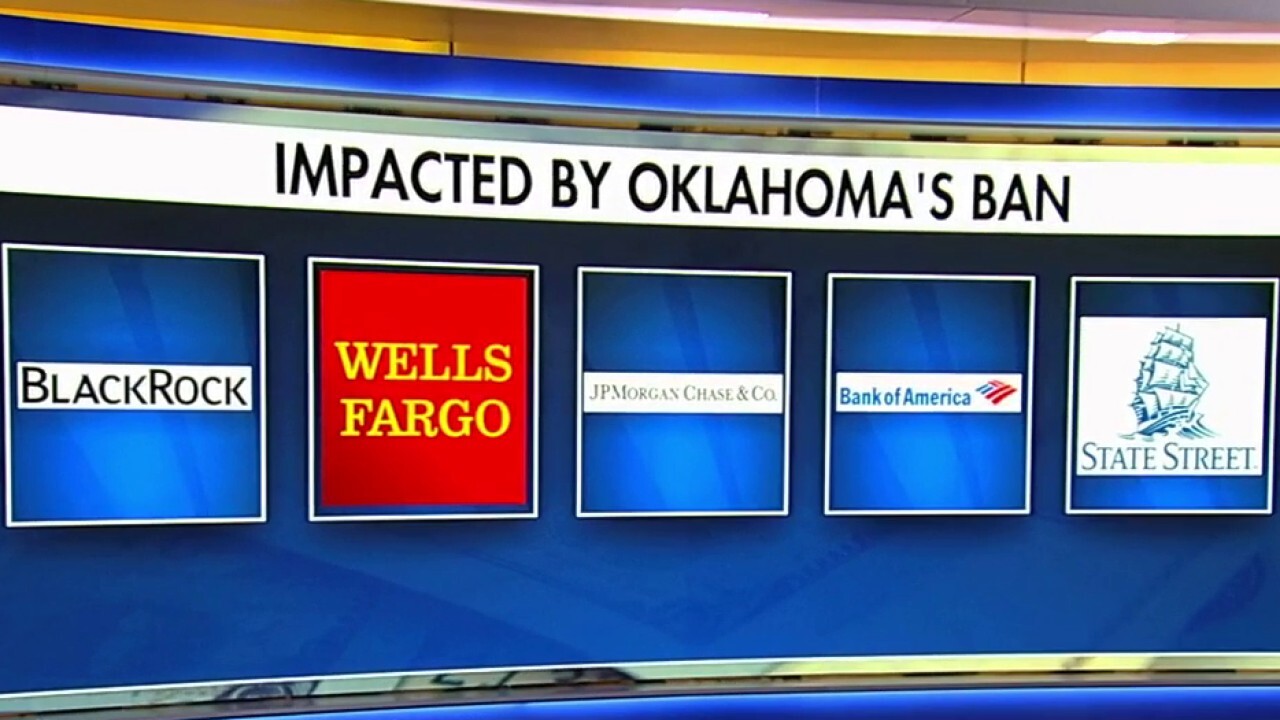 Fox Business May 3, 2023
State will not do business with banks 'beholden to social goals that override their fiduciary duties,' Oklahoma state treasurer says

Oklahoma Treasurer Todd Russ shares what he expects to accomplish with the boycotts on 'The Bottom Line.'
Oklahoma is taking action Wednesday to ban 13 major financial institutions from doing business with the state after a review determined the banks engaged in energy boycotts.
Oklahoma State Treasurer Todd Russ is planning to announce the sweeping measure Wednesday morning which represents one of the most aggressive actions any state has taken against banks pursuing so called environmental, social and governance (ESG) initiatives. The move ultimately blocks the banks from managing billions of dollars in Oklahoma pensions, investments and other state entities.
"The energy sector is crucial to Oklahoma's economy, providing jobs for our residents and helping drive economic growth," Russ said in a statement. "It is essential for us to work with financial institutions that are focused on free-market principles and not beholden to social goals that override their fiduciary duties."
The ban impacts some of the largest asset managers and banks in the country including BlackRock, Wells Fargo, JPMorgan Chase, Bank of America and State Street. BlackRock alone reported in April that it has a staggering $9.1 trillion in assets under management.
Oklahoma's actions come three months after Russ sent a letter and questionnaire to dozens of banks and financial institutions on Feb. 1, asking about their climate and energy investment policies. Russ noted at the time that BlackRock manages more than 60% of the Oklahoma Public Employees Retirement System.
Under a 2022 law passed by the state's legislature last year, the state's treasurer is mandated to probe the investment policies of banks it does business with and assemble a list of companies determined to be engaged in a boycott of the energy sector. Russ' office said it received almost 160 responses which helped inform the decision Wednesday.
"We appreciate the prompt response from these financial institutions," Russ added. "Our state's financial partnerships should reflect our priorities and values, and it is our responsibility to partner with companies that share our vision for a strong and prosperous Oklahoma economy, and that includes our energy sector."
Overall, as of 2022, Oklahoma's oil and gas industry and its component sectors sustained 4,000 businesses, produced $19 billion in state gross domestic product, provided state households with $16.5 billion in earnings and created 85,050 jobs, according to state data. The state is the nation's sixth-largest crude oil producer and fifth-largest producer of marketed natural gas.
ESG standards pursued by major financial institutions, though, prioritize environmental investments, boosting green energy projects once deemed risky, over traditional oil and gas investments as well as corporate social priorities such as boardroom diversity initiatives.
Critics – including attorneys general, state treasurers, the energy industry and consumer groups – have accused ESG-focused asset managers of sidestepping their legally-mandated fiduciary duty of looking out for the well-being of clients whose money they manage. Leaders from states with large fossil sectors have particularly pushed back on the ESG movement, arguing it forces pension funds to directly counter the financial interests of their states.
"This is a significant step by Treasurer Russ in guarding his state's financial security against ESG advocates like BlackRock and State Street and other financial institutions that boycott energy companies and prioritize agendas that run contrary to Oklahoma taxpayers' interests," Derek Kreifels, the CEO of the State Financial Officers Foundation, told FOX Business on Wednesday.
"Treasurer Russ and state financial officers across the country are at the forefront of the fight against ESG, ensuring that American families' savings are invested according to their values and not ESG extremists," he added.
Grosvenor Capital Management, Lexington Partners, FirstMark Fund Partners, Touchstone VC Global Partners, WCM Investment Management, William Blair, Actis, and Climate First Bank were also among the banks banned from doing business with Oklahoma on Wednesday. Companies may be added to or removed from the state's list in the coming months, Russ's office said.
In response to this report, BlackRock and JPMorgan Chase pushed back, saying they have invested billions of dollars in the energy sector.
"BlackRock is a leading investor in the Oklahoma energy sector," a BlackRock spokesperson told FOX Business. "On behalf of our clients, we have invested over $15 billion in public energy companies based in Oklahoma and approximately $320 billion in public energy companies globally, including investments in both traditional energy sectors like oil and gas and in renewables."
"BlackRock offers our clients the choices they need to help them achieve their investment objectives for low fees. We believe lists like these ultimately raise costs for Oklahoma taxpayers and reduce returns for firefighters, teachers, and state employees seeking to retire with dignity. They also undermine free-market competition and choice for investors."
And JPMorgan Chase said Russ' decision was "baseless."
"As the nation's largest bank, we are among the top financers across the energy sector, including traditional energy sources," the bank told FOX Business.
"Between 2021 and 2022 we provided over $2 billion in financing and other services to 40 Oklahoma companies in the oil and gas space," the statement continued. "Our business practices are not in conflict with this anti-free market decision, and we look forward to continuing to serve customers and communities in Oklahoma."