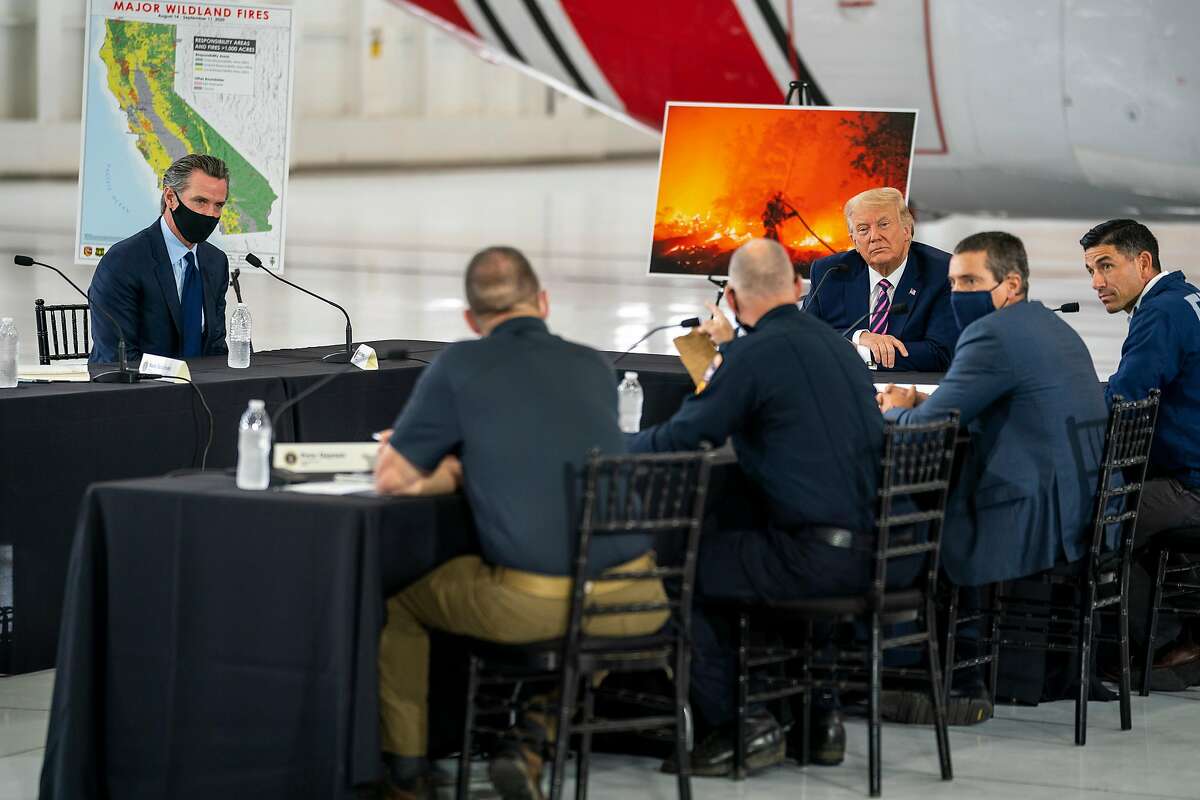 President Trump attends a briefing about wildfires in California at the McClellan Park outside Sacramento on Monday with Gov. Gavin Newsom, left.
San Francisco Chronicle | Sep. 14, 2020
SACRAMENTO — President Trump resisted calls to confront the reality of climate change during a brief visit to California on Monday — a position that his Democratic opponent, Joe Biden, signaled he may focus on as wildfires burn across the West.
During a two-hour stop at an airfield near Sacramento, Trump met with state officials for a briefing on the fires. Gov. Gavin Newsom took the lead, urging the president to consider how "the plumbing of the world" has changed, intensifying hot and dry conditions that have pushed California into a record wildfire season.
Trump cast doubt on that analysis — and climate science as a whole — instead renewing his concerns that the state has not done enough to thin out trees and other vegetation fueling devastating fires.
"We'll talk about forest management. I've been talking about it for a long time," Trump told reporters at McClellan Park, a decommissioned Air Force base outside Sacramento that is now a hub for state firefighting operations. "They have to do that. You go to other countries and they don't have this problem."
Biden slammed Trump during a speech Monday in Delaware as a "climate denier" and a "climate arsonist" who was failing his most basic duty to keep Americans safe.
"If he gets a second term, these hellish events will continue to become more common, more devastating and more deadly," Biden said.
Newsom has praised the president for providing disaster aid to California, but he has become increasingly critical of Trump's record on climate change, which Newsom blames for worsening the severity of wildfires.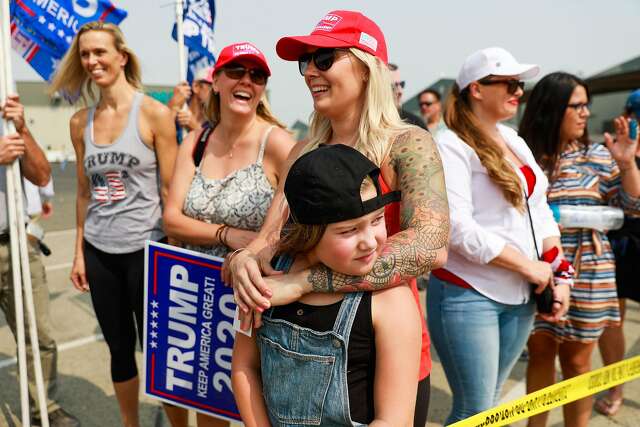 Tessa Jacques embraces daughter Caroline Jacques, 9, as they and other supporters of President Trump wait hoping to catch a glimpse of the President after he landed.
Photo: Gabrielle Lurie / The Chronicle
The governor tried to drive home that point during their meeting, telling Trump that "we've known each other too long and, as you suggest, the working relationship I value."
"Something's happened to the plumbing of the world, and we come from a perspective, humbly, where we submit the science is in … that climate change is real, and that is exacerbating this," Newsom said. "Please respect, and I know you do, the difference of opinion out here as it relates to this fundamental issue on the issue of climate change."
Trump replied, "Absolutely."
But when Wade Crowfoot, California's natural resources secretary, later urged Trump not to "ignore that science and sort of put our head in the sand and think it's all about vegetation management," Trump said, "OK. It'll start getting cooler. You just watch."
"I wish science agreed with you," Crowfoot responded.