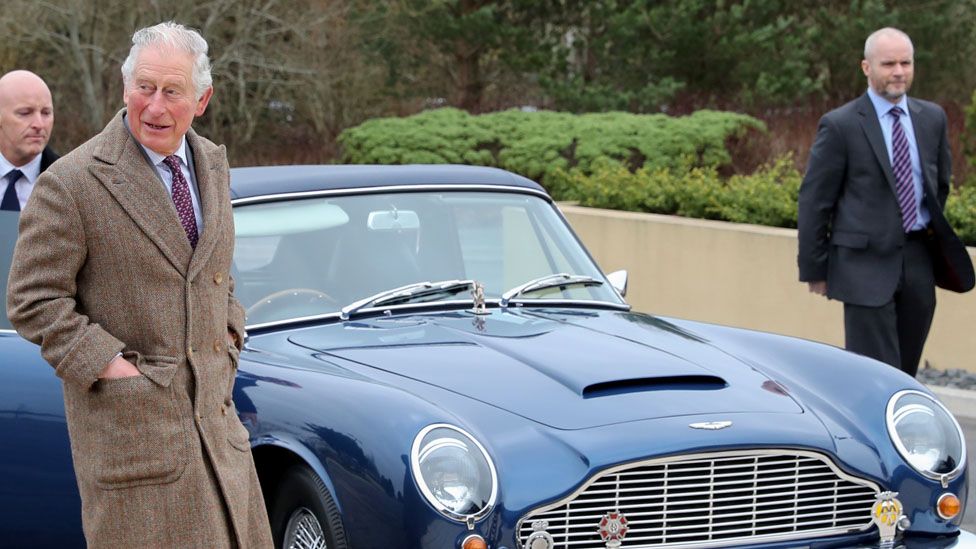 Getty Images
The blue DB6 Mk2 Volante was given to the Prince of Wales for his 21st birthday
From BBC | Oct. 11, 2021
Challenged about his own efforts to reduce his carbon footprint, Prince Charles said he had switched the heating of Birkhall to biomass boilers, using wood chips from trees felled in the estate's forest.

He has installed solar panels at Clarence House, his London residence, and on the farm buildings of his Gloucestershire home, Highgrove.

He said he had installed heat pumps at some of his properties and a hydroelectric turbine in the river that runs beside Birkhall.

He was also challenged on his long-standing love of cars, and asked if he was "a bit of a Jeremy Clarkson, a bit of a petrol-head?"

"Well, yes", the prince acknowledged: "But that was before we knew what the problems were."

He said he had converted his favourite vehicle, an Aston Martin he has owned for 51 years, to run on what he described as "surplus English white wine and whey from the cheese process".

His Aston Martin has been modified to run on a fuel called E85 – made up of 85% bioethanol and 15% unleaded petrol.

Bioethanol can be derived from different sources – including in the case of the prince's car – surplus wine and alcohol extracted from fermented whey.

He said most of the vehicles used on his estates were now electric but "it can't all be done with electric vehicles", and that hydrogen technology would need to be part of the mix as transportation was decarbonised.

Top of the list of the concerns he had about electric vehicles was price, "they are not cheap", he said.  He was also worried about how the materials for batteries would be sourced and how they would be recycled.

"At the moment there is a huge amount of waste which is really worrying," he said.
Oh, to be a rich man and be able to make such climate sacrifices!